How did the Maze get started?
Just like any great idea, a big plan or even a plant starts out as a tiny seed. You add some water and sunshine and out sprouts a pretty little flower which turns into a plump pumpkin.
That's how things began on Barnyard Boulevard. One farmer had an idea. He, then, met a woman who helped to build on those ideas by adding her creative thinking. They recruited their family to help pull everything together, and…BAM! Barnyard Boulevard became At The Barnyard Corn Maze and Pumpkin Patch.
How is the corn maze created?
Every year, the maze has a theme. The family tries to come up with a new idea each season, but they are not opposed to repeating popular ones. They use this theme to draw a picture. The farmer then takes this picture and uses his lawn mower (that's right-his lawn mower) and intuition to cut into the corn. These cuts become a series of paths that resemble the picture and forms the maze. As a result, we get aerial views of the corn maze that look like this: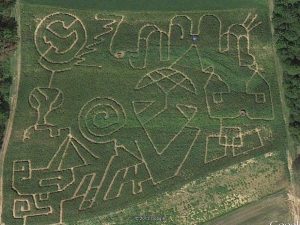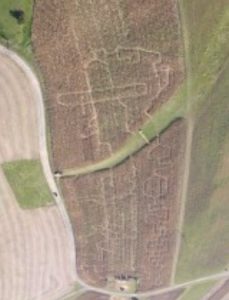 Pretty good, huh? Can you make out all the images in the corn? Can you guess what the theme was for each of those mazes? (You can find the answers by looking on the photos page)
But cutting out the maze in the corn is only a small portion of the work at At The Barnyard. The family comes up with all sorts of ideas on how to make the maze even more fun inside. Therefore, they build props that relate to their theme and create a game to play while you walk through. There are fun things to do outside the maze as well, check out the activities page to see more on that.
And you can't forget about the pumpkin stand and fall décor available for purchase every fall.
We hope that you will come check us out every year to see what surprises we add in and out of the maze! See you in the corn field!